The Most Important Election In US
History: All Hands On Deck
The future of our country, the lives and livelihoods of millions of Americans and the fate of life on our planet are hanging in the balance. With an incompetent, corrupt and self-serving president enabled by a complicit GOP and a criminally negligent Department of Justice, none of us can afford to stand on the sidelines. All of us must find ways to engage in the national election while also helping keep New Mexico Blue.While polls are learning toward promising outcomes for Biden and the US Senate, we all remember 2016 when polls pointed to an almost certain victory for Clinton. With the looming possibilities of foreign intervention, voter suppression and/or acts of desperation by Trump to delegitimize the election, it is imperative that we not become complacent. We need a landslide and there is no time to lose. We need you to help!
Flip the Senate & Dump Trump by Getting Out the Vote in Battleground States
Taos United:Taseños Unidos Election Group has joined forces with SwingLeft.org, Vote Forward, Flippable, and other national organizations to reach voters in 12 battleground states to flip 8 Senate seats and win crucial electoral college votes for Biden. Along the way, we'll help flip state house seats to end some of the most egregious gerrymandering during post-census redistricting in 2021.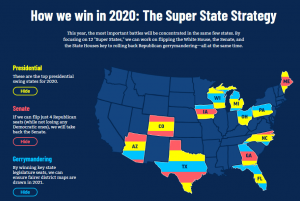 THERE ARE MANY OPTIONS FOR 

ACTION

, 
working on your own or with a small group, all from home.
Preparing Letters to Voters- (2 hours a week or more)
Writing Postcards to Voters-(1 hour a week or more)
Texting- (1 hour a week or more)
Phone banking-(2 hrs/week or more)
Help pay for stamps, cards and envelopes (any amount) at TaosUnited.org/donate
Fundraising for candidates (by sending informational emails to friends and contacts)
Recruiting friends and family to join you in making a difference
PLEASE JOIN US!
To let us know you're interested and complete a brief SURVEY of your interests.
See our complete strategy here: or contact Marjorie Luckey: luckbend@gmail.com
Attend our next Zoom meeting July 10, 1pm by sending an email to: luckbend@gmail.com with your name, phone and email address so we can send you the link.
Create a large Taos County Blue Wave for Biden, Ben Ray Lujan (US Senate), Teresa Leger Fernandez(CD3 US House of Representatives and Kristina Ortez (NM House of Representative, District 42) to offset Republican votes in the south.
Keep NM CD2 Rep. Xochitl Torres Small in the US House of Representatives
NM Swing Left (ABQ group) https://swingleft.org/group/newmexico is also working directly with her campaign
Elect new progressives to the NM Senate – 5 new progressive Democrats ousted longtime DINOs in the primary, but they need our help in the general election.
---
---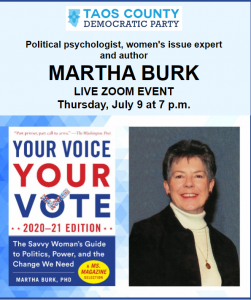 About Martha Burk
Martha Burk is a political psychologist and women's issues expert who is co-founder of the Center for Advancement of Public Policy, a research and policy analysis organization in Washington, D.C. She serves as the Money Editor for Ms. magazine, and is a syndicated newspaper columnist and frequent blogger for 
womensvoicesmedia.org
. Her public radio show "Equal Time with Martha Burk." originates from KSFR Public Radio in Santa Fe, N.M. Her latest book Your Voice, Your Vote: The Savvy Woman's Guide to Politics, Power, and the Change We Need (2020-2021) is a Ms. magazine book selection.  
Click HERE for the long bio.
——————————
——————————
——————————
———————–
Moderators:
Kristina Ortez
, Democratic Candidate for New Mexico, House of Representatives (Dist. 42)
&  
AnJanette Brush, 
Democratic Candidate for Taos County Commissioner (Dist. 4)Hosted by
The Taos County Democratic Party
Taos County Federation of Democratic Women
Taos United/Taoseños Unidos
Sign up for the meeting: taosvotesblue@gmail.com
The ZOOM link will be emailed tp you on the morning of the forum.
Please check spam before writing that you didn't receive it.