New Mexico's rate of deaths and injuries due to gun violence is higher than the national average. Taos United supports strengthened legislation for New Mexico that would require background checks for anyone wishing to purchase a gun. In addition, we are working to facilitate discussions to combat misinformation and to find common ground to make our community safer.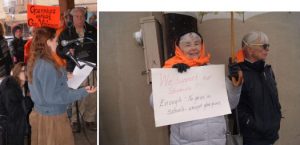 In response to gun violence across the country, Taos United has participated in vigils, student marches, and forums to bring attention to the reality of gun violence in the USA. To work for sensible legislation in NM and elsewhere, Taos United members have joined in the efforts of one or more of the following gun sense groups:
1. Moms Demand Action – New Mexico (Based in Albuquerque) – momsdemandaction.org
Moms Demand Action is affiliated with Everytown for Gun Safety (everytown.org)
Find events: https://act.everytown.org/event/moms-demand-action-event/ or text "events" to 64433.
https://www.facebook.com/MomsDemandActionNM/
2. New Mexicans to Prevent Gun Violence
https://www.newmexicanstopreventgunviolence.org/
3. Common Grounds is a group of young people, mainly high schoolers, that supports stronger gun sense laws. For more information about Common Grounds, write to: jcline@cybermesa.com
We also organize occasional actions for Taos United/Taoseños Unidos supporters who do not belong to Moms but want to support gun sense. Contact Paula at paula.claycomb@gmail.com if you would like to know more.
Here is a bit more information on 2019's focus area of expanded criminal background checks:
A dangerous gap in New Mexico law makes it far too easy for convicted criminals and other people with dangerous histories to purchase guns. These buyers, who are legally prohibited from having guns, can easily evade the background check system and arm themselves in New Mexico by purchasing guns from unlicensed sellers, including strangers they meet online or at gun shows, with no questions asked. The proposed legislation will help keep guns out of the hands of felons, domestic abusers, and other people with dangerous histories by requiring background checks for all gun sales. Evidence shows that this policy should be the foundation of any comprehensive gun violence prevention strategy. It is supported by the majority of New Mexico residents.
Our NM Senator Carlos Cisneros and Representative Bobby Gonzalez pledged in December 2018 to support the legislation, recognizing its merit and that it does not in any way impinge on the right to own firearms.