(click on burgundy links)
FACT CHECKING RESOURCES – BECAUSE THE TRUTH MATTERS!
ACCESSING INFORMATION:
KEEP UP WITH WHAT'S HAPPENING:
TAKE ACTION:
COMMUNITY RESOURCES FOR MENTAL HEALTH, SUBSTANCE ABUSE, HOUSING, FOOD & CLOTHING, HEALTHCARE ASSISTANCE, SENIOR SERVICES 
TAOS COUNTY ELECTED OFFICIALS
TAOS COUNTY COMMISSIONERS Contact information available at this link
Town of Taos Elected Officials:


Taos County Representatives in the NM House and Senate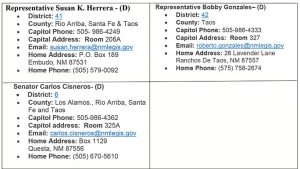 NM Members of US Congress
US Representative Ben Ray Lujan- (D)
Congressional District 3
2446 Rayburn HOB
Washington, D.C. 20515
Ph: (202) 225-6190
email: grassroots@benrlujan.com  OR
Link to email form: Click here to get to his form. You will need to input your zip code to get access to the form used to direct email to the Congressman.
US Senator Martin Heinrich
303 Hart Senate Office Building Washington DC 20510
(202) 224-5521
Link to email form: www.heinrich.senate.gov/contact
US Senator Tom Udall
531 Hart Senate Office Building
Washington DC, 20510
(202) 224-6621
Link to email form: https://www.tomudall.senate.gov/?p=contact