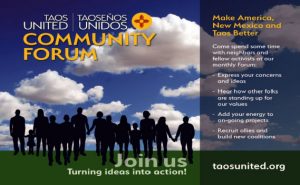 The Community Forum is a lively, interactive monthly gathering designed to bring neighbors and activists together to turn ideas into action for a stronger and better community. It is perfect for anyone who wants to recruit allies to support their cause, share a project or concern, get involved in community activism, or keep abreast of what is already happening here. It is free and everyone is welcome.
DATE:
3rd Tuesday of each month
TIME:
5:30-7:30 pm
PLACE:
(via Zoom, until further notice)
Attendees give up to 3-minute pitches about their issues and projects. When everyone has spoken who wants to, people connect informally to get more information, join causes, share resources and make new friends. The Forum may also feature special 5-15 minute presentations on current hot topics as they arise.
Proven to strengthen community and spawn activism, this format has already helped create a long-term, successful rallying point for social change in Southern New Mexico and is now doing so here in Taos.
Bring flyers, announcements, petitions and other info you'd like to share. And bring your friends and allies—together we can create the world we seek!
Anyone can speak for up to 3 minutes, but if you'd like to make a longer presentation of 5-20 min contact the Steering Committee at least 5 days in advance: tsurguine@gmail.com