Taos United/Taoseños Unidos launched TAOS YOUTH VOTES (TYV) in the spring of 2018 as a collaboration with the Unitarian Congregation of Taos and CommonGrounds: a Youth Coop. The immediate goal was to increase voter registration and turnout of 18- to 34-year-old's throughout Taos County for the upcoming mid-term elections. A longer-term goal is to nurture a stronger voting culture and civic engagement among Taos County youth.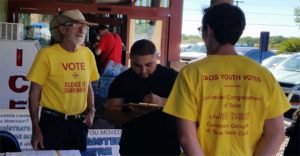 The first step was to recruit eight youth directors from three high schools and a university to lead strategic planning and execution. That group chose the name Taos Youth Votes for the program and the slogan "Silence is Surrender – VOTE" for bright yellow and red tee-shirts worn by volunteers. They also recommended social media for reaching the target group.
Older adults from sponsoring organizations teamed with youth volunteers to participate in the Fiestas and Taos Pride Parades and to register voters at 14 venues and events in the run-up to the November election. One student volunteer even arranged to register voters at Taos High School during school hours. TYV volunteer registrars submitted over 80 voter completed registration forms in addition to encouraging on-line registration and absentee voting.
During early voting and in the last days before the election, TYV teams waved encouraging signs along the Paseo during lunch hours. Overall voter turnout in Taos County exceeded expectations for the election.
TYV did have a great kick-off, but there's lots more to do for the future – specifically for the 2020 election cycle. Some strategies being considered include:
Lobby the NM Legislature to pass a bill to allow 16 year olds to vote in School Board elections and/or lobby the Taos County School Boards to amend their rules to create one or more seats for student representative(s) elected by their peers;
Encourage civics and history teachers to use mock election activities to inform and engage students;
Campaign parents to facilitate their eligible children's early registration and voting;
Establish on-going TYV social media campaigns to reach a wider youth audience with persuasive messaging;
Organize student art and writing contests and/or projects focused on civic engagement and voting.
If you are interested in becoming involved with Taos Youth Votes individually or as a collaborating organization,
Please contact: Marjorie Luckey at luckbend@gmail.com