To volunteer: Contact George Brown of Taos County Democratic Party
 575-999-1621 or taosvotesblue@gmail.com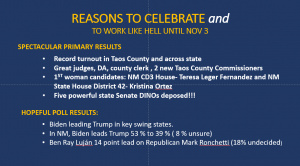 Goals for November 2020
Create an unprecedented Taos County Blue Wave for Biden, Ben Ray Lujan (US Senate), Teresa Leger Fernandez(CD3 US House of Representatives and Kristina Ortez (NM House of Representative, District 42) to offset Red votes in the south. 
Keep NM CD2 Rep. Xochitl Torres Small in the US House of Representatives

NM Swing Left (ABQ group) https://swingleft.org/group/newmexico is working directly with her campaign. Join their team to stay up to date and take action.
Contact George Brown to be connected to the NM Coordinated campaign. 
Out with the DINOS and in with progressives!! 5 new progressive Democrats ousted longtime DINOs( Democrats in Name Only)  in the primary, but they need our help in the general election in November