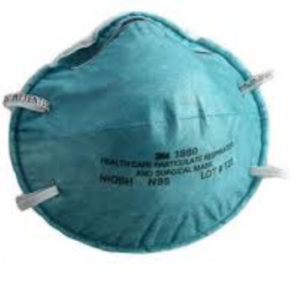 URGENT REQUEST FROM THE TOWN OF TAOS
TO ALL EMPLOYEES, ELECTED OFFICIALS AND VOLUNTEERS,
Please review the attached Public Orders by the Mayor, Town Council and State of New Mexico. (Read the Public Order here)
As most of you are probably aware, the neighboring states of Texas and Arizona have reached record levels of new cases, hospitalizations and deaths for a single day and the country, at 40,000 new cases a day, is at record levels that even surpass the crises we faced last March.
This is also a holiday weekend where traditionally we receive large crowds from all of our neighboring states and indications are that while most events are cancelled and the Governor has imposed a 14 day quarantine on all out of state visitors, a number have already made reservations and are here or coming anyway.
A number of studies have established a correlation between residents visiting out of state infected areas and returning with the infection or visitors from infected areas visiting and bringing the virus. A large portion of cases in Taos have been attributed to these two methods of transmission, as we have very little community transmission here and are otherwise fairly safe and doing a good job.
Therefore, this weekend is critical to not becoming our neighbors.
We have sent out our rules to businesses, hotels, short-term rentals and posted signs in stores, handed out masks to businesses and flyers to give to visitors and are doing all we can.
Our police have masks and informational flyers to give out, as well. I am manning a complaint and information line all weekend to handle complaints and our response for violators, to assist hotels and retailers with questions and to discourage people from out of state from coming here this weekend. Unfortunately, our billboards and banners for the entrances to Town won't be done till Monday because of the holiday weekend that starts tomorrow.
What we would like to do in order to add another level of protection for our community is to have volunteers throughout the weekend each donate about 1-2 hours to just walk the downtown, our food stores, and wherever people are going to be and to carry informational flyers and a handful of masks to act as Town Ambassadors just to approach folks that may not be wearing a mask or that might be from out of town judging by their license plates and give them a flyer and say "Excuse me, I know that you might not be aware that we have an emergency health order in place that requires a mask and social distancing and if you need one here is a mask on us". We aren't asking people to enforce any of the rules just to provide information.
If you can volunteer, please email or call Cathy Romero till 5pm today at (575) 751-2002 or cromero@taosgov.com and me afterwards (575) 770-2606 or rbellis@taosgov.com .
Any time you can give would be appreciated and ideally we would like to have people in pairs so everyone has a partner.
Masks and flyers will be given our from Town hall today (Thursday) and tomorrow (Friday) for volunteers.
Sincerely,
Rick Bellis
Town Manager
---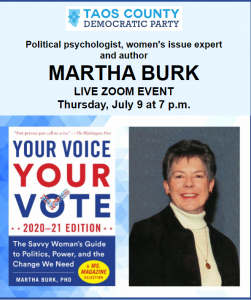 About Martha Burk
Martha Burk is a political psychologist and women's issues expert who is co-founder of the Center for Advancement of Public Policy, a research and policy analysis organization in Washington, D.C. She serves as the Money Editor for Ms. magazine, and is a syndicated newspaper columnist and frequent blogger for womensvoicesmedia.org. Her public radio show "Equal Time with Martha Burk." originates from KSFR Public Radio in Santa Fe, N.M. Her latest book Your Voice, Your Vote: The Savvy Woman's Guide to Politics, Power, and the Change We Need (2020-2021) is a Ms. magazine book selection.  
Click HERE for the long bio.
—————————————————————————————————————–
Moderators:
Kristina Ortez
, Democratic Candidate for New Mexico, House of Representatives (Dist. 42)
&  
AnJanette Brush, 
Democratic Candidate for Taos County Commissioner (Dist. 4)Hosted by
The Taos County Democratic Party
Taos County Federation of Democratic Women
Taos United/Taoseños Unidos
Sign up for the meeting: taosvotesblue@gmail.com
The ZOOM link will be emailed tp you on the morning of the forum.
Please check spam before writing that you didn't receive it.
---
Essentials for you and anyone who many need it: