Essentials for you and anyone who many need it: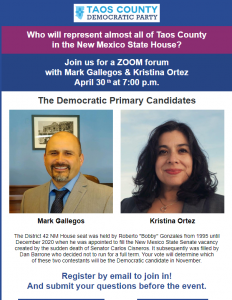 ---
DONATIONS FOR TAOS PUEBLO
The Healing and Reconciliation Institute has identified a 501(c)3 that can accept donations for the well-being of Taos Pueblo. To make a donation, go to https://www.healingreconciliationinstitute.org/projecto-1, click the Donate Now button, and fill out the PayPal form.  Specify any amount, and use the comments section to specify the name of the fund:  Community for Racial Healing-Relief Check Fund for Taos.  If you want your donation to be anonymous, also specify that in the comments.
————————————————————————————————————–
COVID-19 relief for the Dine Nation
McKinley Mutual Aid is based/focused in McKinley County, NM (Gallup, Zuni, Crownpoint) https://ourindigenouslifeways.org/  there's a "donate now" link on this page
Northern Dine COVID-19 Relief Effort is up in San Juan Co., NM (Shiprock, Kirtland . . .)
https://www.facebook.com/Northerndinereliefteam/
https://venmo.com/Dine-Introspective to donate
Navajo and Hopi Families COVID-19 relief is based out of Tuba City, AZ and works reservation-wide/particularly on the Arizona side.
https://www.facebook.com/groups/214813476301051/?ref=share
https://www.gofundme.com/f/navajo-amp-hopi-families-covid19-relief?utm_source=customer&utm_medium=copy_link-tip&utm_campaign=p_cp+share-sheet to donate
T
RETAKE OUR DEMOCRACY WEBINARS AND RADIO PROGRAM

Tues., May 5, 6:30 – 8 p.m., a conversation with Dahr Jamail and Greg Rogers: Could COVID-19 Kill Fracking in NM? If so, what do we do? You must register to ensure a seat for this event. NOTE: When you register you will receive a password that you will need to enter the meeting. Register at this link.
Tuesday, May 19, 6:30-8:00 pm, Conversation About Gas & Oil Influence in NM Legislature featuring Heather Ferguson, Executive Director, Common Cause NM; Dede Feldman, former NM State Senator and author; and Kathleen Sabo, NM Ethics Watch. Common Cause NM and NM Ethics Watch just published a detailed study of the influence of gas and oil industry contributions and lobbying on the NM State Legislature. It examines patterns in campaign donations, dinners and other perks, as well as the concentration of gas and oil industry lobbyists in NM. It also examines specific legislators and legislation that were significantly influenced by the industry. We will discuss how this influence unfolds and what concerned New Mexicans can do about it. You must pre-register for this zoominar. Click here to register.

Tuesday, May 26, 6:30 – 8:00 pm. Conversation with NM Voices for Children About the NM State Budget Crisis with Amber Wallin, Deputy Director; Bill Jordan, Government Relations Officer; and Paige Knight, Research and Policy Analyst. Joining this panel will be a NM State Legislator to be determined. You must pre-register for this Zoominar. We will be discussing the dire state of the NM state budget due to plummeting gas and oil prices and the economic impact of Covid-19. Click here to register.

Tuesday, June 9, 6:30 – 8pm. Conversation About the Enormous Benefits of Forming a NM State Public Bank with Public Banking Advocate Leadership & Experts. On our panel will be Elaine Sullivan, Board President of New Mexico's Alliance for Local Economic Prosperity and other experts from NM and the nation. The composition of experts to participate in this panel discussion is still be finalized, but you will want to put this in your calendar as, especially with the state experiencing a critical budget crisis, every strategy for maximizing our financial resources is critical and public banking has immense potential for supporting the state financial capacity and advancing economic justice.

PAST WEBINARS AVAILABLE on the Retake Our Democracy site

Saturdays 30 minute KSFR show: https://www.ksfr.org/programs/retake-our-democracy
Monthly Forums cancelled until further notice.
Join us online: taosunited.org  and on Facebook: https://www.facebook.com/TaosUnitedTaosenosUnidos/
Postcard Posse
Meeting (via Zoom) at our regular time: 3 PM on Thursdays
for information, contact Diane at dshif@well.com)
---