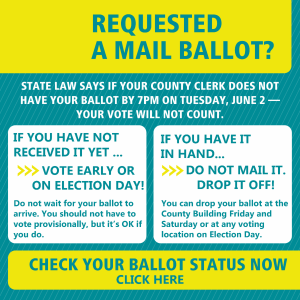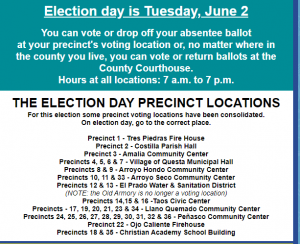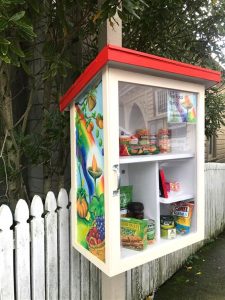 Little Pantry Locations in Taos
1. On Rio Lucero Road, across from house 118
2. In front of 1st Presbyterian Church
3.In front of Bataan Hall on Civic Plaza Drive
4. On Mariposa road just off Kit Carson
5. Gusdorf park next to the Little Library
6. Just off Camino de La Merced, by Taos Net
7. Fred Baca Park, under the tree in the parking area
8. Cuchilla Road, up about 1/5 of a mile on the south side
9. Straight Arrow Road near the mail boxes.
10. Cuchikla Road and Romero road intersectionLocations change. Check with TIA on their Facebook page: 
https://www.facebook.com/tiataos/
---
aos County Candidates' Positions & Statements on
National Security and LANL – Part II
——————————————————————————————-
Taoseños For Peaceful And Sustainable Futures conducted a survey of  candidates for Taos County Commissioner & Northern New Mexico State Legislature candidates regarding their  positions on basic national security issues which they will face if elected.
Taos County Commission Candidate Survey on National Security Issues
Northern New Mexico State Legislature Candidate Survey on National Security Issues
---
RETAKE OUR DEMOCRACY WEBINARS AND RADIO PROGRAM
Tuesday, June 9, 6:30 – 8pm. Conversation About the Enormous Benefits of Forming a NM State Public Bank with Public Banking Advocate Leadership & Experts. On our panel will be Elaine Sullivan, Board President of New Mexico's Alliance for Local Economic Prosperity and other experts from NM and the nation. The composition of experts to participate in this panel discussion is still be finalized, but you will want to put this in your calendar as, especially with the state experiencing a critical budget crisis, every strategy for maximizing our financial resources is critical and public banking has immense potential for supporting the state financial capacity and advancing economic justice.
PAST WEBINARS AVAILABLE on the Retake Our Democracy site
Saturdays 30 minute KSFR show: https://www.ksfr.org/programs/retake-our-democracy
---
Essentials for you and anyone who many need it:
---
Monthly Forums cancelled until further notice.
Join us online: taosunited.org  and on Facebook: https://www.facebook.com/TaosUnitedTaosenosUnidos/
Postcard Posse
Meeting (via Zoom) at our regular time: 3 PM on Thursdays
for information, contact Diane at dshif@well.com)