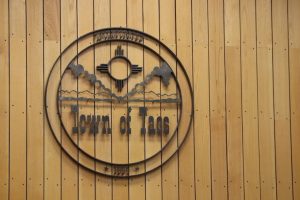 TONIGHT
The Taos News will be hosting a candidates' forum for the upcoming 2020 town of Taos election.
Town council candidates will take the stage at 6 p.m. Thursday (Feb. 6) in the Kit Carson
Cooperative Boardroom, 118 Cruz Alta Road, where they will answer a variety of questions
about the upcoming election and their priorities if elected.
Incumbents Darien Fernandez and Nathaniel Evans were both elected in 2016 and are running
to retain their seats.Challenging the two will be town planning and zoning commissioner Billy Romero
and Roger Martinez. Martinez ran for council against Evans and Fernandez in 2016, in a race that
brought 11 community members to the ballot.
The two council seats will go to the two candidates who receive the most votes in the March 3 election.
Early voting begins February 4 at the Taos town hall clerk's office, 400 Camino De La Placita.
Taosnews.com will livestream the event.
---
OPPOSE INCREASE IN ELECTRIC VEHICLE FEES
CALL TODAY! They're at it again: ALEC, the Koch Brothers' supported lobbyists who have major right wing influence and impact at the state legislative level throughout the country. The Sierra Club has notified us to contact Bobby Gonzalez our NM Senator on the NM Senate Finance Committee (see below for quick contact) to stop ALEC's proposal for excessively raising the registration fees on electric vehicles (EV) in Senate Bill 2.
Background:
Income tax credits for EV purchases or/leases (with higher credits for those with lower incomes) are now being considered in SB2 and HB 217). These bills also address the need for EV and hybrid owners to contribute their fair share to road maintenance and repair.
Traditionally, gasoline taxes have been used to pay for road maintenance, but despite our deteriorating roads, New Mexico's government has not raised the tax on gasoline since 1993.  As a result, New Mexico's gas tax is lower  than all of its neighbors and about one-half the national average according to data from American Petroleum Institute
The original version of SB2 proposed to  charge EV owners an additional $50/year fee for vehicle registration However, an ALEC proposal was added in the SENATE CORPORATIONS AND TRANSPORTATION COMMITTEE to double this  fee to $100/year which is excessive and will act as a  disincentive to the transition away from fossil fuels. 
Call and email Senator Gonzales to ask him to support the EV tax credits in SB2, but to reduce the additional  registration fee back to the original amount of $50/year for an EV and $20 for a plug-in hybrid.    If more $ is needed, increasing the gas tax to at least match the rate of inflation since 1993 would be a much better option.
(EV drivers should have to pay fees to cover road repairs that other drivers pay as part of a tax on gas that feeds the New Mexico Road Fund.  While EV drivers should pay into the road fund, Senate Corporations has added a punitive $100 yearly fee for all EV drivers to the bill. Please contact members of Senate Finance and tell them to at least bring the fee down to $50.)
Email roberto.gonzales@nmlegis.gov
---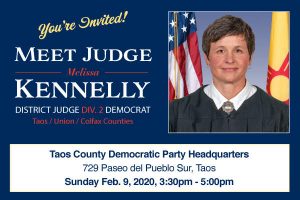 Please come and meet Judge Melissa Kennelly, Sunday, Feb 9, 3:30-5:00 pm. Judge Kennelly was appointed
as District Court Judge, Division 2 in April, 2019 by Governor Michelle Lujan Grisham, after a thorough vetting
and recommendation of her peers. She is a Taos County resident, acequia parciante (who annually cleans
ditches) and water judge for the District. Her primary office is in Raton, but she hears cases throughout the
District which includes Taos, Colfax and Union Counties. She is highly recommended by many including former
Taos Judge Peggy Nelson who says "Judge Kennelly is smart, dedicated, meticulous, well prepared,
professional, and possesses the requisite temperament to instill confidence in our local judiciary and beyond.
She is by far the most qualified candidate for the job". Hope to see you there!
---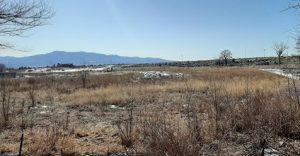 STOP FAMILY DOLLAR IN EL PRADO
(Yet Another)  Family Dollar store is proposed for Taos. This time in El Prado. These stores are built in "poor" communities intentionally. They destroy competition and put other businesses (Albertson's, Smith's,
and Super Save) out of business. Certainly the  4 Dollar Stores already here are sufficient.Attend the Planning and Zoning meeting next Wednesday night, February 12th,  6 pm at the Taos County Commission room. to speak your opposition and keep Taos businesses strong and preserve green spaces.
Sign petition here