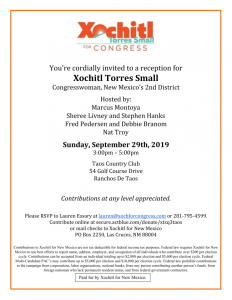 Playing for Change:
Playing for Change is an all-volunteer and youth group started in 2002. It uses music to highlight the power of collaboration and effect social change. They are currently filming one song ("To the Mountaintop") but by many organizations. In Taos, it will be filmed at Taos Plaza on September 28 at 12:30 p.m. Everyone is welcome!
---
OCTOBER 7th, 5:30 PM:  Forum on the 2020 Census  Taos (and New Mexico) has historically had very low participation in the national census. On Monday, Oct 7, at 5:30 p.m. at the  Taos County Democratic Party Headquarters (729-A Paseo del Pueblo Sur)  a forum on the census will be held with Paige Best, New Mexico Census Coordinator.
Please come!  For more information:  call George Brown 575-999-1621
---
SAVE THE DATE:
OCTOBER 16th 5:30 PM: Protest S&R  Sewage Discharge Permit Renewal
S&R, unlike all other sewage discharge companies in the area, refuses to pay the solid waste treatment fee ($15/load) and is permitted to dump sewage into an open pit, polluting surrounding air and water. This permit continues to be granted, despite the fact that S&R has not complied with conditions placed on previous renewals.  The Abeta exploratory well may also be contaminated by the sewer pit. Mary Lane urged everyone to attend the County Commision's meet at 5:30 p.m. on Oct. 16 to protest the renewal of S&R's permit. Contact Mary Lane Leslie at 575-776-7489 or email leslielawtaos@icloud.com.
---
Plastic Free Taos aims to:
*minimize single-use plastic
*help Taos County meet their recycling goals and
*provide education/support to schools, government and households.
Their next meeting is Oct 23 at  5:30 p.m. in the Kit Carson Electric Cooperative Board room (the same room where the TUTU Community Forum is held).
For more information: contact Kayce at 575-770-1131.