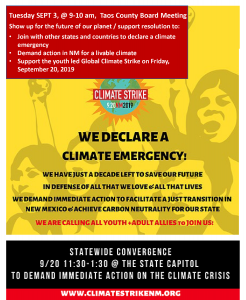 Join in the declaration of a climate emergency. On behalf of the youth of New Mexico and the world, we will be asking the Taos County Commissioners to pass a resolution to:
Call on the Governor and the NM legislature to:

take immediate action to accelerate the transition to renewable energy
declare a moratorium on new fracking
develop a just transition away from dependency on fossil fuels.
Your presence is your support.  Speak up if there is time or express your thoughts by wearing or holding small hand-made signs if you wish.
9-10 AM Tuesday September 3rd: County Commission Chamber 105 Albright St.
---
Regeneration Festival
This year we have another exciting line up of youth-focused events aimed at nourishing and uplifting the lives of young people in Taos. It is a four day festival to honor the four sacred directions, and have fun doing it! Contact us (575 779 4443) if you want to help with any part of it!
Location:  Taos County Economic Development Corporation 1021 Salazar at Bertha